The International Mindfulness Federation's mission is to bring mindfulness to the mainstream™. Our goal is to be the central association for the mindfulness world, providing powerful resources for organizations and individuals who are interested in mindfulness. Over the last year leading up to our launch, we have spent hundreds of hours building resources that include the largest collection of articles on mindfulness in the world (over 2,600 and counting), creating and collecting meditation and mindfulness related videos (over 100 and counting), along with building world-class live and on-line training on a whole host of mindfulness related subjects. We hope that you will join us in our very exciting Mindfulness Movement!
Our founding members are leaders from the Executive Coaching and Mindfulness Training worlds. With over 100 combined years of experience in the leadership development field, we are bringing our experience and passion to help build the International Mindfulness Federation into the largest association and resource center for the mindfulness community.
Our Guiding Principles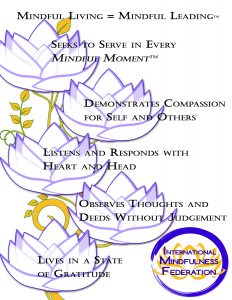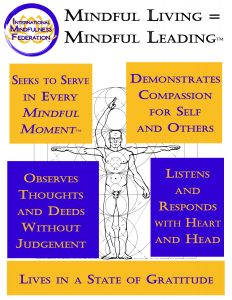 We are also pursuing a B Corporation status, which is a socially responsible organization that abides by a strict set of values based guidelines. You can find out more here.